Size Guide
F YOU KNOW YOUR SIZE:
If you know your size or finger measurement (in mm), you can go to any online ring conversion website and enter your info.
Here is an example of a ring size conversion chart: http://www.onlineconversion.com/ring_size.htm
Below are two different ways to measure your ring size. We recommend using both techniques for a more secure determination of your ring size.
OPTION 1: DIAMETER
MEASURING YOUR FINGER WITH A PRINTED SIZE CHART:
Right-Click on the image below and select Save Image As.
Print the image without scaling and ensure the length from the 'Read Size Here' line to the end is 3.5 inches.
Cut out the printed image, then wrap the sizer around the desired finger. Read the number next the 'Read Size Here' line. 
WITH A STRING / FLOSS:
Wrap the string/floss

 

snug around

 

your finger, make sure it's nice and tight and cut it carefully;
Measure the distance with a ruler (in mm); that's your finger's circumference;
Use the

 

CHART

 to find your ring size and voila, you're all set.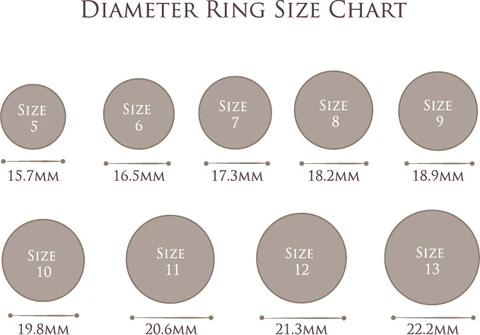 Things not to do:
Measure from the outside of the ring edges (your ring will be too big)

Use other ring charts you find online as they might be using different measurements

Print the chart and lay your ring onto the paper to measure (the print-out size varies and won't be accurate)

Hold your ring up on the screen to compare against the chart (screen sizes vary and won't be accurate)
OPTION 2: CIRCUMFERENCE
Watch the video for detailed instructions on how to measure your circumference:
2. NECKLACE CHAIN LENGTH GUIDE
Again, if you have any questions about finding your size, please don't hesitate to email us.